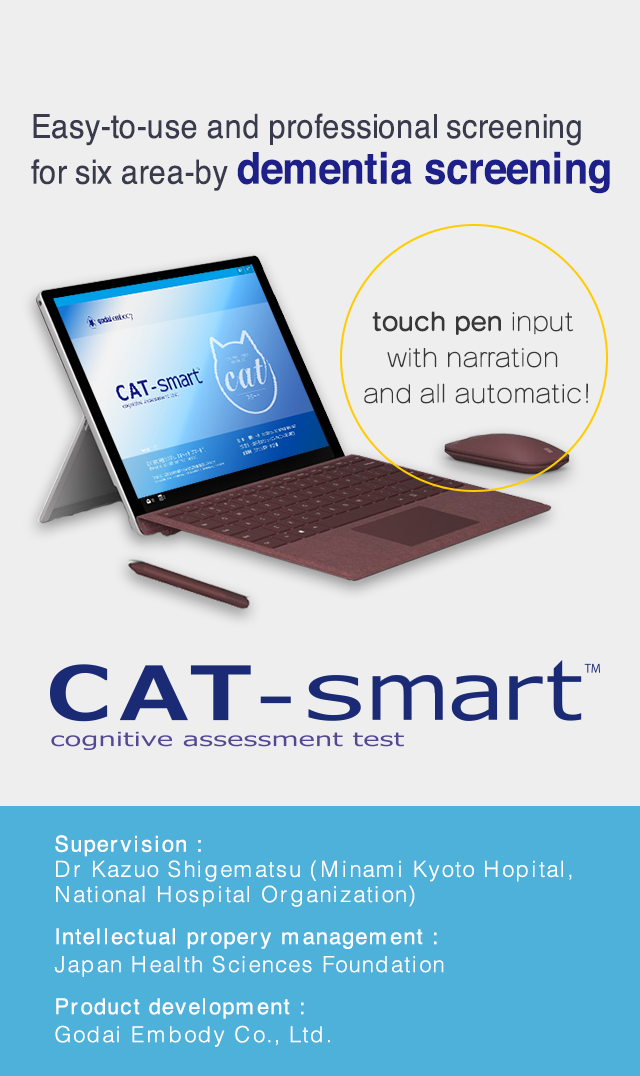 Auto-self medical cognitive assessment test
for dementia early detection and prevention
Recent aging society and dementia patient increase is becoming very serious social problem.
Number of dementia specialists is not sufficient,
and demand for easy-to-use cognitive assessment tool is becoming very high.
CAT-smart was developed as highly precise and practical use tool
with dementia specialist doctors of Japanese national hospitals with long-term clinical data.
01

Full automated and quick

Touch panel and pen enables all users including aged to use the tool relaxingly. Self-check mode and report function of the tool is suitable for not only medical use but personal use including public services and welfare facilities.

In addition to general memory and calculation abilities test, timer function of the tool for each cognitive assessment test is very useful for problem processing and safe drive abilities with total cognitive assessment test.

03

Follow-up and

tracking records

Radar chart report of the tool is suitable for continuous tests. The tool enables professional use screening, multivariable analysis and easy-to-use evaluation for all the six areas of memory, judgment, visuospatial, execution function, attention, disorientation and MCI (Mild Cognitive Impairment) with long-term user management and support.
Product Features
---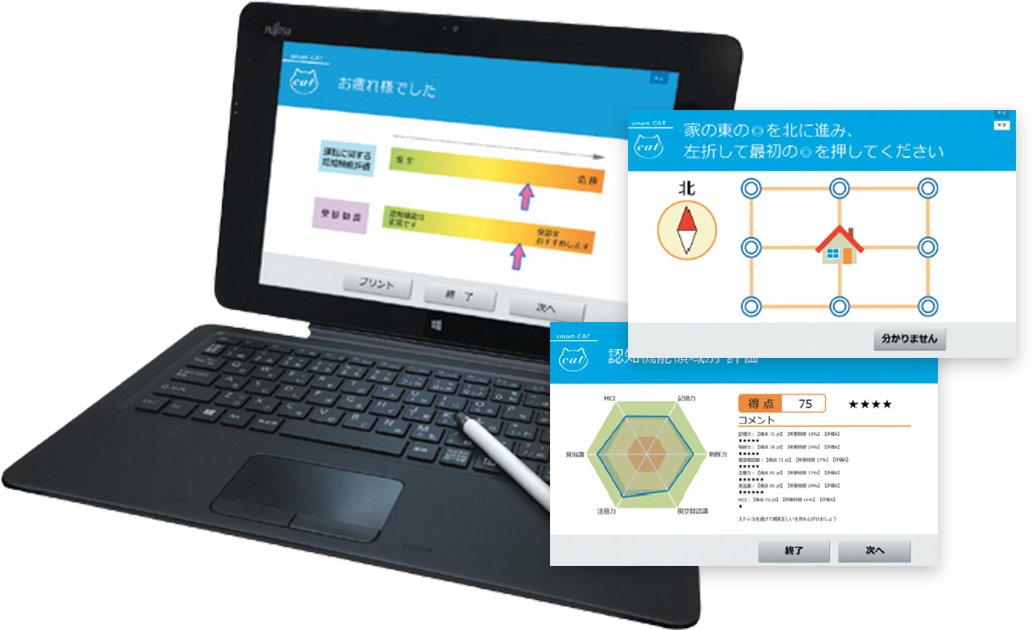 【CAT-smart™】
Total cognitive assessment test
Table PC with Windows10
Option: Touch pen, earphones, color printer
Supervision :
Dr Kazuo Shigematsu (Minami Kyoto Hopital, National Hospital Organization)
Intellectual propery management :
Japan Health Sciences Foundation
Product development :
Godai Embody Co., Ltd.
Recommendable Use
---
Rich functions ready-to-use for clinical application.
Personal use and long-term user health management including brain training
at public services and welfare facilities.
Dementia disease medical center
Day-care center
Local health care support center
Local community center
Medical check clinic
Driving school and Licensing center
Pharmacies and drugstores
Aged care facilities